Rabbi Noam and Shiffy Friedman became the OU-JLIC educators at Columbia University/Barnard College in the summer of 2014. Rav Noam and Shiffy, who met in high school, live in Morningside Heights just a few blocks from the Kraft Center, where their 3 children can be found on Shabbat finding all the best snacks at the kiddush and making new friends. The Friedmans relish the opportunity to participate in the vibrant Jewish life at Columbia/Barnard.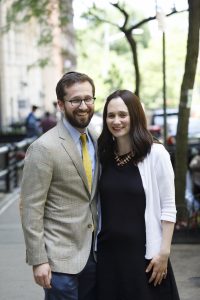 Rabbi Noam Friedman spent two years in Israel studying at Yeshivat Torat Shraga and Yeshivat Har Etzion, and studied at Yeshiva University for a BA in psychology, an MA in medieval Jewish history, and rabbinic ordination.  A former Tikvah Fellow, he has also spent many summers on staff at Camp Moshava in Indian Orchard, PA. Rav Noam loves hiking and competitive word games. He also bears a peculiar fondness for maps.
Shiffy Friedman received her BA in Jewish Studies from Stern College after spending a year studying in Israel at Migdal Oz. She received a dual MA in Education and Jewish studies from NYU and has been in the field of Jewish education for over a decade. In addition to her OU-JLIC responsibilities, she currently teaches Judaic studies at her alma mater, Ma'ayanot Yeshiva High School. She is a certified Yoetzet Halacha through Nishmat's Miriam Glaubach Center and serves the Manhattan and Westchester communities in that capacity.